Brochures & Magazines
Read our latest World Traveler Magazine or
click here
for ALL our digital publications.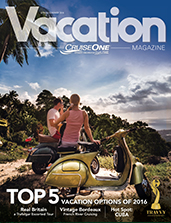 Ask your Vacation Specialist for our FREE Brochure
From Your
Vacation Specialist

WE CAN NOW MAKE ALL INCLUSIVE LAND BOOKINGS WITH FUNJET SEE OUR NEW BOOKING LINK BELOW. -- ROYAL CARIBBEAN -- AMAZING SALE ---- VOW TO WOW SALE 50 PERCENT OFF SECOND GUEST, 50 PERCENT REDUCED DEPOSIT AND UP TO $300 SPENDING MONEY NOW THRU DECEMBER 31, 2014 DONT WAIT BOOK NOW!
Christmas Markets Europe and Beyond
River cruises: What A Great European journey
FEE VS FREE WHATS INCLUDED IN YOUR CRUISE FAIR?
Passport 101: How to apply, renew or replace your passport
Planning Shore Excursions
Top Five Reasons for taking a crusie
The Amazing Galapagos Islands
FUNJET VACATION ALL INCLUSIVE DIRECT BOOKING LINK
THE BEST CRUISE SHIPS FOR KIDS
BVI's TORTOLA is a laid-back-to-basics treasure